Rick Bragg To Receive 2018 Award
Rick Bragg received the 2018 Joanne Sloan National Award for the Encouragement of Writing.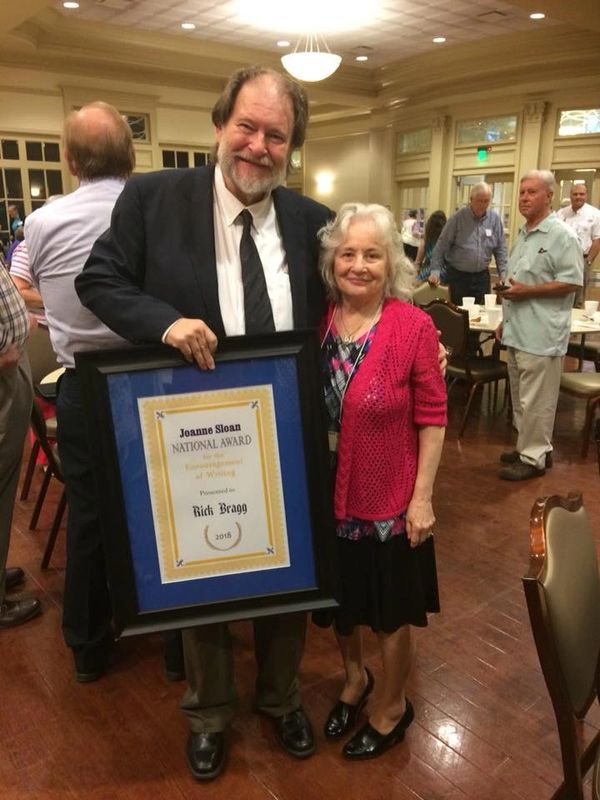 The ceremony was held June 8 in Tuscaloosa, Alabama.
A professor of writing at the University of Alabama, he has spoken at conferences and writing workshops around the nation. The number of writers he has inspired is probably uncountable, and many say he is their favorite living writer. Some have said he their favorite of all time.
 Known internationally for his works of creative nonfiction, Bragg won the Pulitzer Prize for Feature Writing in 1996 and has had a number of national best-selling books.
He has received more than 50 writing awards, including the American Society of Newspaper Editors' Distinguished Writing Award twice. His Pulitzer Prize for Feature Writing (while he was working for the New York Times) cited "his elegantly written stories about contemporary America." Among his long list of awards are such ones as the Southern Book Prize, Harper Lee Award, and Clarence Cason Award for nonfiction writing.
His first book, All Over But the Shoutin′ (1999), which focused on his mother as she raised her family, became a national bestseller and almost immediately established Bragg's reputation as one of today's premier nonfiction writers.
His most recent books are the biography Jerry Lee Lewis: His Own Story; Southern Journey, a collection of his magazine essays; and The Best Cook in the World: Tales from My Momma's Table.
His other books include two family memoirs, Ava's Man and The Prince of Frogtown; Wooden Churches: A Celebration; Somebody Told Me: The Newspaper Stories of Rick Bragg; I Am a Soldier, Too: The Jessica Lynch Story; and The Most They Ever Had.
He writes a monthly essay for Southern Living magazine.
PREVIOUS WINNERS OF THE AWARD
2016: CEC MURPHEY
The inaugural award was given to Cec Murphey, the author of more than 130 books and a nationally known writing teacher. His books include a number of best-sellers for which he served as the collaborator, including Don Piper's best-seller 90 Minutes in Heaven, Dr. Ben Carson's biography, Gifted Hands, which was made into a popular movie, and Franklin Graham's Rebel With a Cause. Murphey is a national leader in working with writers and aspiring writers. Many of his books have dealt with the writing craft. For more than 30 years Murphey has, he said, "devoted my life to writing and helping others become successful writers." 
2017: BRUCE BARBOUR
Known internationally for his work as a literary agent,  Bruce Barbour has been a mentor for numerous writers. He has held executive positions at major publishing houses including Revell, Barbour and Company (which he co-founded), Thomas Nelson, and Random House. In 1997, he founded Literary Management Group, a full-service agency and consulting firm that has represented bestselling authors and books.